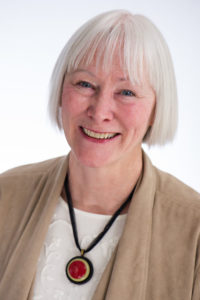 Mary Ann Huffines has worked in business development since 2008, starting out at the Larimer SBDC and coming full circle, is now aligned with the Larimer SBDC as Program Director of the Loveland Business Development Center (LBDC). Mary Ann transferred to the Loveland SBDC in 2009, taking on the position of Program Coordinator and continued to work with the program as it transitioned from an SBDC program back to independent status of Loveland Center for Business Development (LCBD).
Mary Ann's diverse business background helps her in guiding businesses to the resources they need to start, grow and prosper in their business. The lessons learned as co-owner of "Matthews" restaurant in Westport, CT, were many. The restaurant was one of the top five restaurants in town, with 32 employees and operated for five years. After selling that business, Mary Ann attended Fairfield University; enrolled in their graphic design certificate program. She worked in the graphic design field for 15 years and had her own business, Graphic Support Services, during that time. Making another career change, Mary Ann worked in administration for retirement communities for a 7 year period before she accepted the position at Larimer SBDC.
And for fun, Mary Ann can be seen doing a 25-mile bike ride to local breweries with her husband, Jay, or trying to beat him at a game of racquetball. Anything related to gardening is at the top of her "feeding the soul" list and listening to old vinyl records.
Save