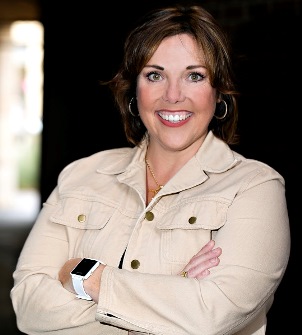 General Consultant, Hablo Espanol
Kristin McMahon is an entrepreneur, speaker and business development coach. With over 10 years mentoring and coaching individuals as they launch their own businesses and is a networking expert with over 25 years of networking experience. She holds a Bachelors of Arts in Spanish from the University of Arizona and is a Certified ICAN Coach (CICC).
Currently, Kristin owns two business that she actively runs as the CEO. Flourish Networking, LLC, a Nationwide online women's networking group which she founded in 2014. Additionally, she continues to run her private coaching business as a coach for business leaders through 1 on 1 coaching and workshops as a Business Development Coach. She uses an intuitive visionary approach and neuro coaching with individuals who desire clarity and a strategic plan to make the transition between where they are currently with their business and stepping into the life of their dreams.
Kristin is passionate about creating a movement of leaders who are catalysts for change and growth in their communities. She firmly believes that when you step in to your own personal brilliance you not only change your life, but you can change the world. Originally from Arizona, Kristin has lived in Fort Collins for almost 20 years and enjoys spending her free time with her family, training for her next triathlon or traveling to a beach.
Kristin McMahon es una empresaria, oradora pública y entrenadora para desarrollo de empresas. Ella tiene más de 10 años de experiencia como mentora y entrenadora de gente que desea empezar su propio negocio, y es una experta con mas de 25 años de experiencia en redes sociales o networking. Kristin obtuvo su Licenciatura de Artes en Español de la Universidad de Arizona, y su certificación ICAN Coach (CICC en inglés).
Actualmente, Kristin es dueña de dos empresas, las cuales siempre supervisa como Directora Ejecutiva. Flourish Networking, LLC, un grupo en línea a nivel nacional para mujeres que desean tener acceso a distintas redes sociales, el cual fundó en el 2014. Además, Kristin sigue supervisando su negocio privado de entrenadora de negocios con líderes de empresas a través de la técnica 1 en 1, y ofreciendo seminarios como Entrenadora de Desarrollo de Empresas. Ella utiliza una técnica visionaria intuitiva y el neuro entrenamiento con personas que buscan un plan estratégico y con claridad, para poder hacer una transición desde donde se encuentran actualmente en sus empresas hasta el poder embarcarse en la vida de sus sueños.
Kristin tiene pasión por crear un movimiento de líderes que son catalizadores de cambio y progreso en sus comunidades. Ella cree rotundamente que cuando una persona entra en su propio brillo personal no solamente cambia su vida sino también puede cambiar el mundo. Kristin nació en Arizona, y ha estado viviendo en Fort Collins por casi 20 años y le gusta pasar su tiempo libre con su familia, entrenar para su próximo triatlón o viajar a lugares que tengan playas.