Bilingual / Digital Marketing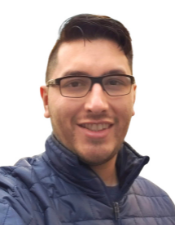 Diego is a bilingual independent contractor consultant for the Larimer County SBDC, and owner of Baboon LLC. He currently specializes in the area of Digital Marketing, so he is so excited to help the small business community, specially the Hispanic community, to move forward with their business. Therefore, If you have a startup and need help with your marketing efforts, then Diego is your option.
Diego es consultor de negocios para el SBDC del condado de Larimer, y es el dueño de la empresa Baboon LLC. Actualmente, se especializa en el área de marketing digital, y está muy contento de ayudar a la comunidad de pequeños empresarios, especialmente la comunidad Hispana, a sacar adelante su negocio. Por lo tanto, si usted tiene una pequeña empresa y necesitas ayuda en el área de marketing, entonces Diego es su opción.
Consulting Expertise Includes:
Bilingual
Digital Marketing