It is always a pleasure to spend time with Ariana Friedlander of Rosabella Consulting. Ariana is a bright young woman filled with creative ideas. Ariana specializes in fostering positive change in an organization's culture so it remains relevant in the 21st century.
I so enjoyed having lunch with Ariana at Fresh Plate Cafe yesterday. I could sit and listen to her talk for hours. Ariana presented me with her new book, A Misfit Entrepreneur's Guide to Building a Business Your Way, for the LBDC library. I started the library in 2010. The library contains business development books from top authors. I will be spotlighting paragraphs from Ariana's book on the LBDC fan page for "Misfit Mondays" leading up to National Small Business Week.
The first book that was donated to our library was Toilet Paper Entrepreneur by Mike Michalowicz. Mike has since donated The Pumpkin Plan and Profit First to the LBDC library. I highly recommend reading all three.
After receiving the first donated book for our library, I got on a roll and started to write to all the top business authors. I explained that I worked for a non-profit and wanted to develop a library for our clients who were starting or building a business. Jeffrey Gitomer was kind enough to send me a copy of all his published books (eight at the time). Jeffrey has written four New York Times best sellers.
The most popular book in our library has been Purple Cow by Seth Godin.This is a fast read and you will be inspired.
All business authors write blogs. It is a good idea to follow some of these authors if you are a business owner. Seth Godin is one of my favorite business writers. Ariana Friedlander is currently writing a blog series with the titles starting out with Four Reflection Questions… I am thoroughly enjoying this series.
The next time you are at the LBDC for counseling, check out a copy of A Misfit Entrepreneur's Guide from our library and learn how to master your entrepreneurial journey.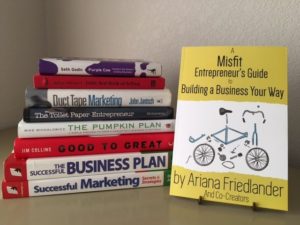 Save
Save