Kure's Craft Beverage Co. was launched in 2017 in Loveland, CO with the goal of bringing the best ginger beer made with real ingredients to the market. The idea of starting a business in the craft beverage world started shortly after I moved to Colorado from Illinois in January 2010. I had been enjoying craft beer since college and started homebrewing once I moved to Colorado. I was very close to launching a craft brewery in Fort Collins in 2012 but decided to put it off after receiving a job offer from Left Hand Brewing. That was one of the best decisions I have ever made. I continued to work for Left Hand for 5 years starting in the tasting room and finishing as a sales representative for Northern Colorado. The experience, knowledge, and networking I achieved at Left Hand would become crucial to the success of Kure's. In 2016 I started to realize that Colorado craft breweries may have reached their saturation point and it was time to figure out what craft beverage would be the best choice for starting a new business.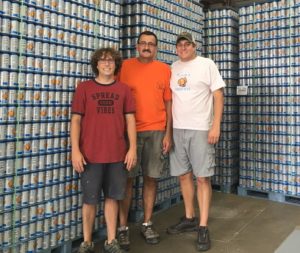 Rye whiskey and ginger beer has been a favorite cocktail of mine for some time. After a while, I started to become dissatisfied with the options available. Most ginger beer is made with corn syrup and natural or artificial flavors. My thought was, it should be easier to find a ginger beer with ginger on the ingredient list. I put a business plan together and talked to my father (also John) about going into business with me. He had seen an article about some guys who had started a distillery using retirement funds with what they called a ROBs plan. The ROBs plan allows you to start a C Corporation and a company 401K plan. We were able to use our savings and retirement funds to buy stock in Kure's Craft Beverage Co. There is quite a bit of red tape to navigate and paper work to keep up with when establishing a company this way, but we were happy to go into business without debt.
After the funds were in place, we signed a contract on a used canning line, found our location and started the build-out process. We thought we had a simple build-out. We had a whole lot of cleanup but only a couple small plumbing and electrical jobs. This was where we started to hit some snags. Since we were changing the occupancy of our space, we had to bring it up to current building codes. These were some of the things we didn't account for with our initial plan and these cost us both time and money. I wish I would have planned for double the time and 30% more on our initial build-out, due to building code updates. Finally, we were able to overcome those obstacles and launch our ginger beer in October 2017!
Once we launched, we were able to hit the ground running. We started with just self-distribution in Northern Colorado but slowly started expanding towards Denver. In February 2018 we signed a distribution agreement with Crooked Stave Artisan Distributing. They have helped us place our product throughout Colorado. In July 2017 we launched into the Illinois market with Heartland Beverage distributing our ginger beer. My father is now our Illinois Representative as well. Our ginger beer sales have since grown in both markets and we are now seeking funding to scale up our operation and expand our portfolio.
Starting this business has been a learning experience. While there are many things I would never change, there are a few things I would have done differently. There will be road bumps on your journey. My biggest recommendation is to stay persistent, stay informed and never give up! It will feel so great once you overcome your obstacles.