About – so what is it?
ReferenceUSA is a golden standard when it comes to public libraries and business research. We switched to a new database AtoZ, but now back by popular demand, Loveland Public Library is re-introducing ReferenceUSA to the general public with several new twists and features to help local residents and businesses.
We all use Yelp or Google Maps to search for businesses – I'm still guilty of doing this when it comes to finding restaurants – but this isn't the best (or the easiest) way when it comes to business research.
Imagine a place where you can find an encompassing list of all the businesses in the area that provides you more information than just a phone number, address and location, but has things like sales volume (revenue), number of employees, and executive's name for any given industry? This is what Loveland Public Library is offering to library patrons—Welcome to ReferenceUSA!
Features – how can I use it?
One of the core strengths of Reference USA is their search filters. Very rarely do I use their basic Quick Search feature unless I have a particular business or individual in mind, but you can find nearly anything you want.
Most of the time I use their Advanced Search to find what type of businesses are in the area. You can also browse through to find additional information on physicians, homeowners, and consumers/lifestyles. Here's a list on some of their other search categories (databases) available through ReferenceUSA.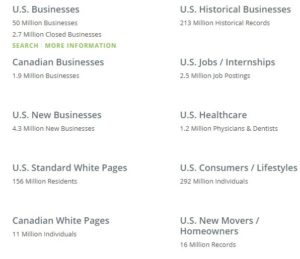 Personal Accounts
If you need something that constantly has to be updated – for instance, a list of recent homeowners in an area – you might want to consider creating a personal account. It's free with your Loveland Public Library card and you're able to save searches and create lists. It also provides you with a new home screen that has a single search box similar Google that you can use to search through different databases.
Map Based Search
If you're more of a visual learner – like myself – you can add customized shapes and circles to your search query and even designate a particular route where vehicles are most likely find a particular business.
Downloading Reports
You can download reports onto an excel spreadsheet and have a summary or a detailed-customized view of the report. You can't select more than 250 profiles at a time, but let's be honest – who wants to download more than 250 business profiles unless you're doing a massive marketing campaign. You can certainly download more than 250 business profiles, but you will have to use your magic with Microsoft Excel and combine spreadsheets which is certainly easy enough to do.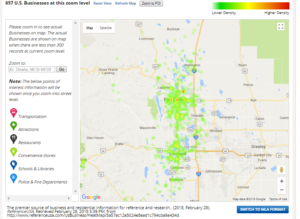 You can also download individual business profiles as a PDF and create a customized Heat Map showing the different levels of intensity for a particular area(s) of business. Imagine looking at a whether map, but for business.
Wrap up
There's certainly many things available through ReferenceUSA and I'm personally excited that Loveland Public Library is re-introducing this particular database to the general public. It's the only database that I'm aware of that is constantly updating their information each month and are dedicated to providing "library patrons access to extremely accurate and complete business and consumer data."
As the Business Librarian for Loveland Public Library, I would be more than happy answer any questions you might have about ReferenceUSA and assist you with your business research.
Jack Dorr is the business librarian at the Loveland Public Library and a contributing writer for the LBDC blog. For business research, contact Jack at jack.dorr@cityofloveland.org or call 970-962-2759.