We are right around the corner from Fort Collins Startup Week followed by Loveland Startup Week. Fort Collins Startup Week is a free, five-day celebration of community that builds momentum and opportunity around entrepreneurship. Led by local entrepreneurs and hosted in amazing spaces all over Fort Collins. The event runs from February 27th to March 3rd, 2017. The key organizers for this event are: Aari Lotfipour, Andrew Schneider, Angel Kwiatkowski, Charisse Bowen, Christine Hudson, Emily Wilson, Gregg Adams, Jesse Eliott, Jessica Rawley, Peggy Lyle, Quinn Webb, Seth Silvers and last but not least, Nick Armstrong. Nick Armstrong has contributed hundreds of volunteer hours to the Loveland Business Development Center and it is not a surprise to see that he is volunteering his time for this worthwhile event.
The line up of speakers for Fort Collins Startup Week is quite impressive. Check out the line up of presentations and activities on the website: fortcollins.startupweek.co/#schedule. The Larimer SBDC will be providing free, confidential counseling at designated times during Startup Week – see Startup website for more details.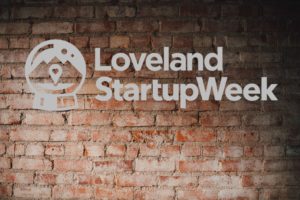 Loveland Startup Week runs from April 6th – April 8th. The primary organizers for this event are Richard Toftness, Wilynn Formeller, Amanda Armstrong, and Roger Ison. These four individuals have worked tirelessly to create an exciting Startup event to inspire and lend assistance to local entrepreneurs. There have been numerous brainstorming sessions; inviting community members and asking them what they would like to see at the event. This event is still being developed. Amanda Armstrong will be giving us an update as we get closer to the first day of the event.
I would encourage any budding business owner, or someone thinking about getting into business, to attend both of these Startup events. The events are packed with presentations from experts in their fields. Too many people get stuck working in their business and not on their business. Or, if just starting a new business, begin ramming ahead into a business without being fully prepared. You really can't go wrong attending the presentations. If you get a few pointers from each talk, it is a win-win.
Save
Save
Save
Save