I just received a press release regarding a medal winner at the 2016 Great American Beer Festival®.
Following is a reprint of the press release:
Verboten Brewing Takes Home Bronze Medal at the Great American Beer Festival® Little Nonsense Wins Coveted Brewing Honor in Wood and Barrel Aged Strong Stout.
Loveland, CO • October 10, 2016 — Verboten Brewing earned the bronze medal at the 2016 Great American Beer Festival (GABF) competition. Presented by the Brewers Association, GABF is the largest commercial beer competition in the world and recognizes the most outstanding beers produced in the United States. The top three winners in the competition's 96 beer-style categories were announced October 8 at the Great American Beer Festival awards ceremony held at the Colorado Convention Center in Denver, Colorado.
Verboten Brewing receives bronze medal for Little Nonsense in the Wood and Barrel Aged Strong Stout category.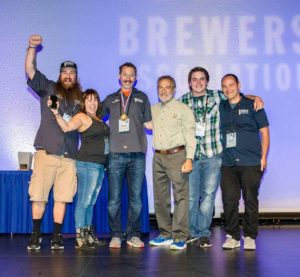 Pictured: Eric Brooks, Assistant Brewer; Angie Grenz, Co-Owner; Josh Grenz, Co-Owner and Head Brewer; Charlie Papazian, Brewers Association; Andrew Victora, Sales Representative; and Jason Bowser, CoOwner. Photo © 2016 Jason E. Kaplan
"We are so honored and proud to receive this recognition, especially in a category that is so near and dear to our hearts. Our goal is to create great beer with a special focus on barrel aged beers, and this recognition is something we couldn't be more excited about," said Josh Grenz, co-owner and head brewer at Verboten Brewing.
Verboten Brewing was recognized in the Wood and Barrel Aged Strong Stout beer-style category for its Little Nonsense, a bourbon barrel aged imperial oatmeal stout. Little Nonsense is a limited-release beer brewed earlier this year, spending nine months in bourbon barrels and has distinctive oak, vanilla, chocolate and coffee notes. The beer is set to release on draft and in a limited supply of 22 oz. bombers at their taproom, 127 E. 5th Street, Loveland, CO, on Saturday, November 12.
Verboten Brewing is a three-barrel craft brewery located in Downtown Loveland, CO, that specializes in unique beer styles and barrel aged beers. In 2014, at just over one year old, they also took a Bronze medal at the prestigious World Beer Cup in the Wood and Barrel Aged Strong Beer category for their Mountain Man Imperial Rye Ale.
The 2016 GABF competition winners were selected by an international panel of 264 expert judges from the record number of 7,227 entries, plus 88 Pro-Am entries, received from 1,752 U.S. breweries.
"The innovation, creativity and flavor of American beers was well showcased at this year's Great American Beer Festival," said Chris Swersey, competition manager, Great American Beer Festival. "This was the most competitive competition to date, with a record number of entries. Congratulations to all the winners who truly demonstrated the best of America's beer culture."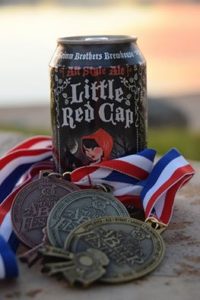 After reading the press release, I went to the GABF website to see if any other Loveland, CO breweries were on the medal list. I was thrilled to see that Grimm Brothers Brewhouse had won a Gold medal for their Little Red Cap, a German-Style Altbier.
Here is a blast from the past…Grimm Brothers won a Gold medal on their first try at the GABF in 2011 with this same beer. I have a few newspaper clippings about Grimm Brothers, as I have loved following their progress over the years. After all, Aaron Heaton and Don Chapman were the brave souls that brought the micro-brewery craze to Loveland in July of 2010. It seems like yesterday that I was sitting in the back room of their old tap room, where they did the brewing. It was such a funky, fun atmosphere; one that will never be replicated.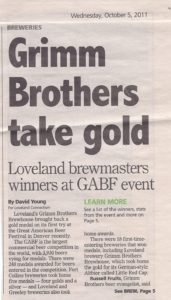 Save
Save
Save