Mindy McCloughan, Loveland Chamber of Commerce president/CEO, was honored in the Business and Business Services category at the 2017 BizWest NoCo Women of Distinction Breakfast on April 12th. Mindy accepted the position at the Loveland Chamber in May 2012. At that time, the Chamber was in need of total restructuring. Mindy has never shied away from making difficult decisions. And there have been plenty of those over the course of her time at the Loveland Chamber. She rolled up her sleeves and dug in for the long haul. The Loveland Chamber now has a balanced budget and is thriving.
Mindy has a 20 year background in Chamber work; starting out as a secretary and ending up as the president of the Lamar County Chamber of Commerce located in Paris, Texas. She has a great appreciation for all the roles involved with running a chamber, since she has held most of the positions.
Mindy is quick to acknowledge her capable staff. Dixie Daly, membership director, has grown the Loveland Chamber membership to 752 members. Most recent team member, Kathy Stewart, greets each visitor to the front desk with a smile and readiness to assist. Raegan Eisele, event coordinator, works tirelessly on all the details for the Chamber's events. The Loveland Chamber year starts out with the Annual Investor Dinner, followed by the Valentine Re-mailing program. Loveland Chamber Dancing with Stars is the next event (event is this weekend – April 15th, 2017) and then the Loveland Chamber Golf Tournament, which always sells out. The Old Fashioned Corn Festival is a signature event for the Chamber and is Loveland's oldest festival. The first corn festival was held in 1894. Two other programs under the Loveland Chamber are Leadership Loveland and City with HeART. All staff members pitch in to make the events successful.
I have yet to see anyone work as hard or the long hours that Mindy does. Her dedication to her work is to be commended. Yet, she is always there for her family and her family is always there for her.
Mindy has been a huge influence in my life. She has been an encourager and has supported me with sound advice to navigate through personal and business decisions. Congratulations Mindy, this honor is well deserved.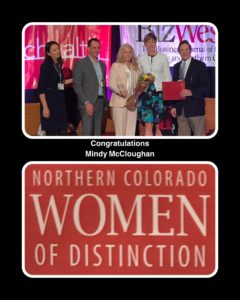 Save